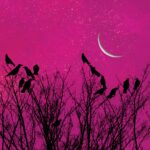 Welcome to The Conspiracy! 
We're thrilled you're opting to become a member of this exclusive corner of The Crone Herself! 
Here, we practice Sovereignty in Collaborative Community.
Here we practice Self-Mastery in Solidarity.
Here, we overthrow stereotypes and become our Selves, together.
We're so excited to share exclusive Blog Posts, audio recordings, discounts in The Crone's Marketplace, and early access to programs with you here.  You'll find tons of value in the Group Oracle Readings, Crone Transmissions and writings.
Once you make your purchase, you'll receive an email receipt. Please allow 24 hours to process you into The Conspiracy. You'll get an email with your log-in information so you can access everything!
Blessings of Love and Power in Sovereign Solidarity!
The Crone Herself
Karina Blackheart and the Crone Crew