READY TO LOVE YOUR WHOLE ENTIRE SELF
THE BIG CRONE ENERGY SESSIONS
the Big Crone Energy Sessions
BIG CRONE ENERGY SESSIONS WITH THE CRONE HERSELF
This is intimate work. This is the deep dive. This is a safe and courageous container where your unraveling, disembly, grief, and release are held without judgement or shaming. This is the bright and dark mirror to gaze tentatively, resolutely, lovingly into as you meet yourself in All Your Parts. This is your opportunity to dive deep and rise again, clenching jewels and wonder between your teeth. This is your descent to the Underworld, your rise to Power, your Homecoming to your Self. This is where you practice taking up space, grab the bragging rights you earned decades ago, use your Voice to speak aloud your Sacred Truth. This is where you listen for the deep, unfaltering YES and the utterly unshakeable NO. This is no place for life's trivialiities. This is the Big Work, the Real Journey Home, the True Love of a Lifetime. This is you–comfortable and glorious in your own skin, in your own thoughts, emotions, desires and deeds. Finally.
This is for you at ANY age. This is for your next iteration of Wholeness. This is for upleveling your Whole Life no matter if your thirty or eighty or in the years between. This is for you if you're ready to challenge your internalized Good Girl Syndrome, your externalized Bad Girl persona, your Caretaker Role, your Girl Boss title. You're bigger, deeper, more than any of those boxes.
This is for you in your utterly unique iteration a Woman of Power. We don't do clones, here. If your most glorious life is quietly tending your garden, or traveling the world, speaking publicly before a rapt audience, Priestessing the rituals, writing the books, mid-wifing the newborn or dying, or killing it in the corporate boardroom, Big Crone Energy Sessions want you to to take the role with abundant joy, pride, self-assurance, and always, self love.
Big Crone Energy Sessions are not a band-aid. Or therapy. This is your dedicated one-on-one, private time with The Crone Herself, a Priestess, an Empowerment Life Coach, the Founding Mother of her Lineage, a Daughter of the Goddess, Trail-Guide and Co-conspirator, a Sister among the Ancient Crone-Mothers; a Woman of Age who's –more likely than not–lived through some of your experiences. Karina's been to the Underworld so often, she's on a first name basis with Erishkegal. She's done so much Shadow Work the shadows run when they see her coming. She's retrieved her own soul a thousand times. In other words–her experience is lived. Her experience guiding others home to themselves is wide and deep–spanning thirty-five years. She brings her soft touch and huge heart, her frank talk to these Sessions, while carrying her scythe, shield, and B.S. Detector.
Big Crone Energy Sessions are for you if you're:
sick and tired of arriving at the same turn of the spiral and getting stuck there.

aware your not letting yourself be your Whole Self

conscious that you talk to yourself in ways you wouldn't let others talk to you
alert to when you shrink, get small, stay quiet
ready to embrace who you are at all costs
are prepared to take responsibility for your dysfunction, dysregulation, and dystopian daydreams
are chomping at the bit to take responsibility for your happiness, creativity, health, time, wealth and well-being.
This is Self-Mastery. This is the Great Work of a lifetime, and for the times we live in. Everything else pales alongside the mandate for us to love, honor and cherish ourselves. Only then, can we do the same for others, and the world.
EVERYTHING YOU NEED, AND THEN SOME: A PROVOCATION OF CRONES
Commit to the whole package
You're it. You're the whole package. Self Mastery is the Great Work of our lifetime, and for the times we inhabit. Self Love is the Greatest Love of your life. You've worked hard trying to get it right. Now, let's allow ease. Let's invite grace. Let's open the forbidden door so you can relax into yourself, and BE.
SELF RESPONSBILITY. SELF LOVE. SELF MASTERY.
Self Love is more than the self-care we've been preached to about for decades. Self Love is where we turn when the day's been long and the world's treated us poorly. Self Love is a soft, limitless space opening in your chest. Self Love is boundaried, protective, pleasurable, proud. It's a softer way to talk about Big Crone Energy–it can be boisterous and bold, like a peacock. It can be quiet and subdued. It shows up just the way we need it to, as the most dedicated lover we've ever had. It's been in you since you incarnated, and has been with you since you were carbon formed in ancient star clusters.
Big Crone Energy is another way of talking about Self-Mastery that asks us to take inventory of ourselves–reviewing where we've been, acknowledging where we stand right now, and proclaiming where we're going. Then, we step forward in the direction of the biggest, boldest, most radically self-loving life we can dare to conjure. We take responsibility for ourselves and leave the rest of it–other people's ish–behind. We turn toward ourselves first, foremost, and always with love, compassion and respect.
When you're exhausted from trying to fix yourself, burnt out by trying to heal yourself, worn down by your own cyclical nonsense, you're ready to ask for help. You need an Elder to help you take responsibility for your life so you can walk through the Initiatory Gates of BEING.
It's time to address codependency, internalized oppression and reward for being a good girl. It's time to create space for pleasure, rest, play, and the life you only let yourself imagine in your journal. Blow it all up. Stand as your Self.
Become your own best ally.
You don't need another life coach, you need an elder, a Sacred Guide, a Priestess. You need The Crone Herself. Karina leads women who've focused on their healing, empowerment, and evolution, but know they've yet to claim their whole lives as their own.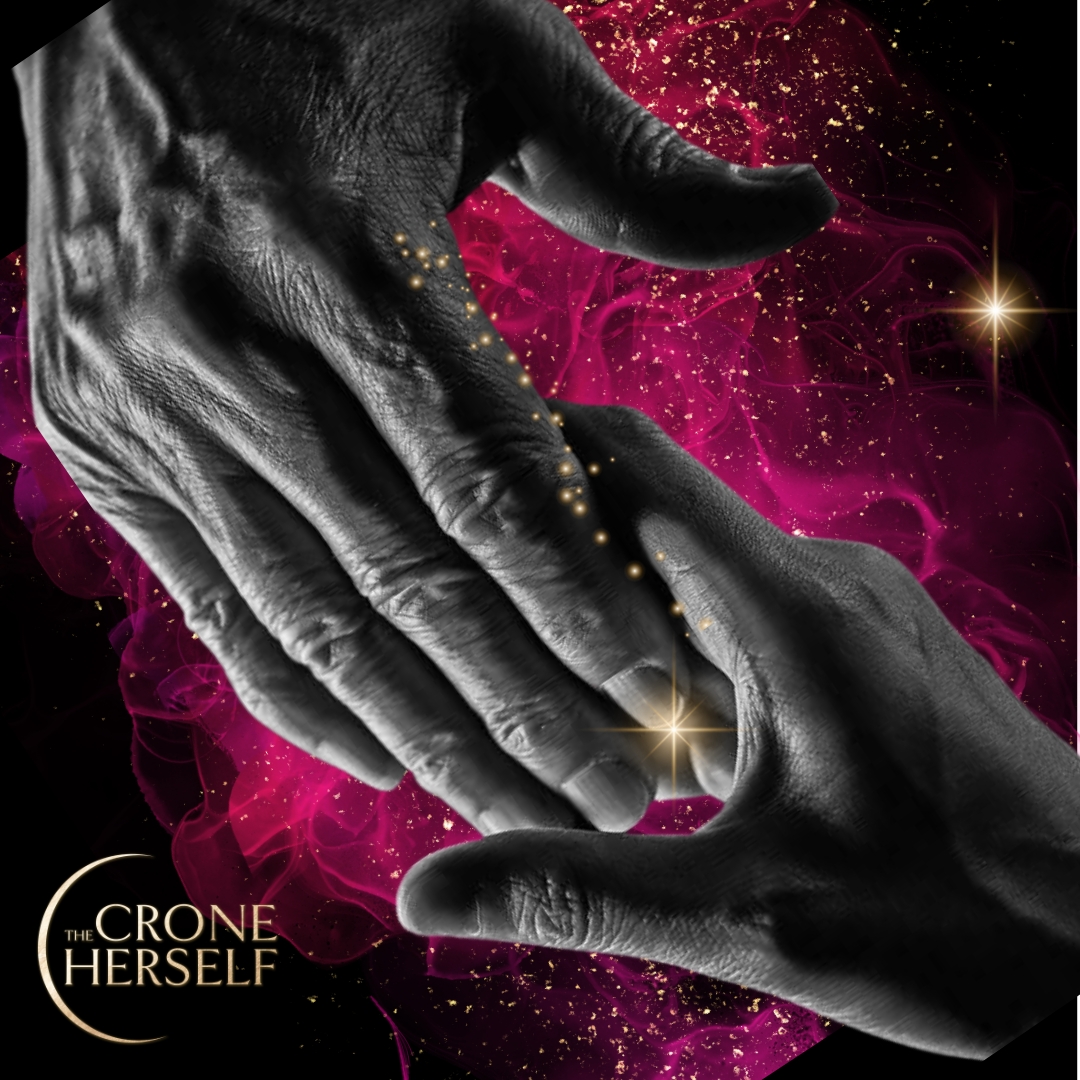 Speak Her Names. Remember YOURSELF.
Invoke
We call upon the Ancient and Ancestral Crones. We invite the Matron Goddesses. We summon forth the Archetypal Wise Women from Myth and Story. We seek the insight and foresight of Contemporary Crones of note. We receive their substantial Guidance, Wisdom, and Protection.
Cultivate Relationship with the Ancient and Ancestral Crones

Address Internalized Ageism and Misogyny

Restore the Rightful Role of the Crone

Recognize and Uplift Modern-day Crones

Invite Her guidance, wisdom, and protection
What you seek is within you.
Evoke
To EVOKE is to call forth from within. To EVOKE is to summon and stir up from the depths of our being. To EVOKE is to expose what lies in shadow, reveal what's been repressed, and bring to light its power. To EVOKE is to raise up The Crone Herself within us, so she can take her rightful role in our lives.
Ditch the good-girl pretense

Integrate your disowned attributes

Take responsibility for your power

Regulate yourself with compassion and courage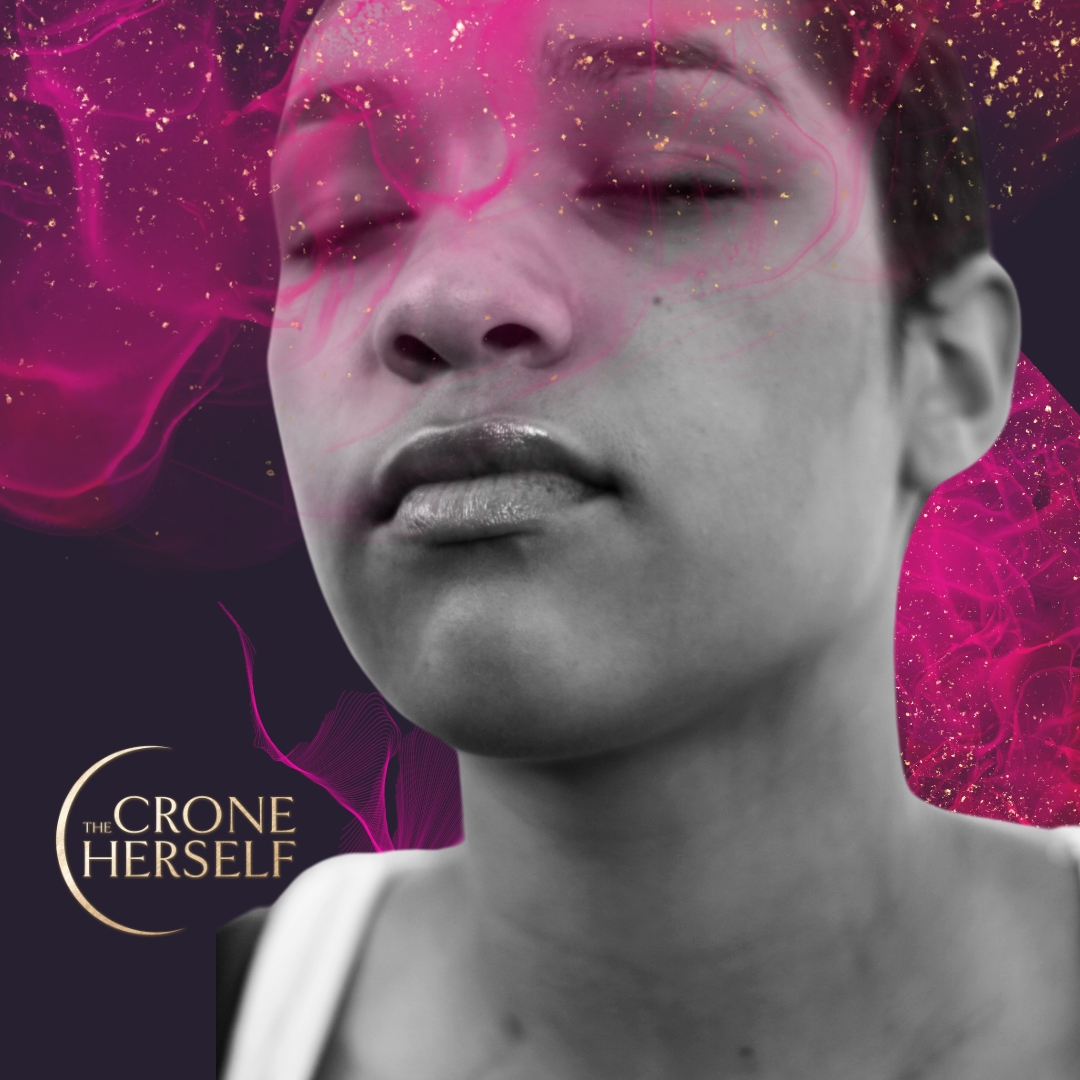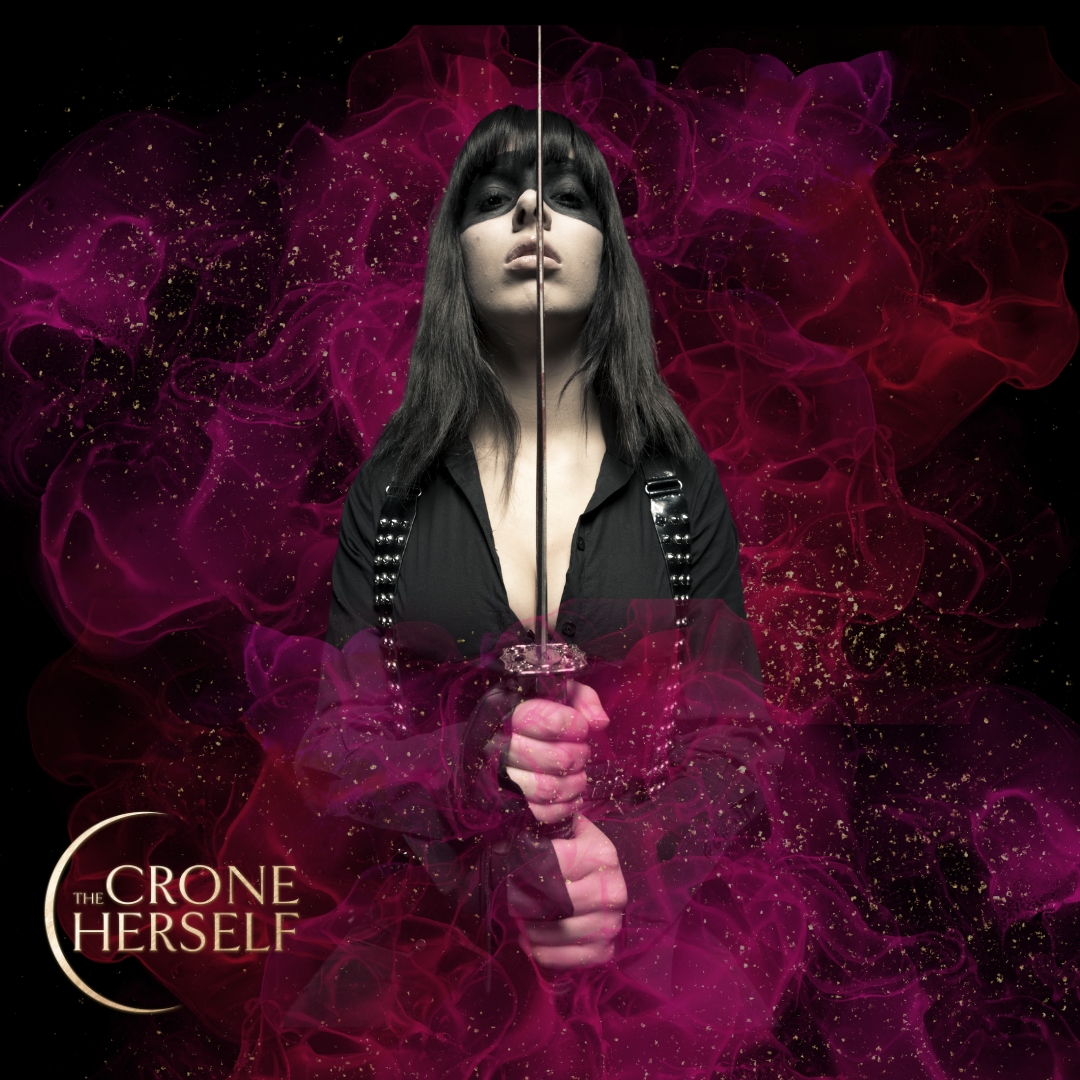 Your defiance sets you free.
Provoke
A giant step on the path to Initiation. Provoke provides the friction necessary to spark in us the Fire of The Crone Herself. We learn, teach, grieve, heal and cheer together.
Accept Your Unmitigated Truth

Embrace Your Exquisite Worth

Unite with Collective Power

Become Serenely Self-possessed

Revel in your Bad-ass Confidence
crones, take your thrones!
Initiate
Bring it all home, deep into your cellular and etheric body. Take your rightful role as the Queen Crone of your realm. This is YOUR Whole Life. No one can take it from you.
Cleanse, Clarify & Prepare for Initiation

Identify Your Rights & Responsibilities

Secure your Symbols of Sovereignty

Rites and Radical Rituals of Initiation

Celebrate in a Blowout Bash of Big Crone Energy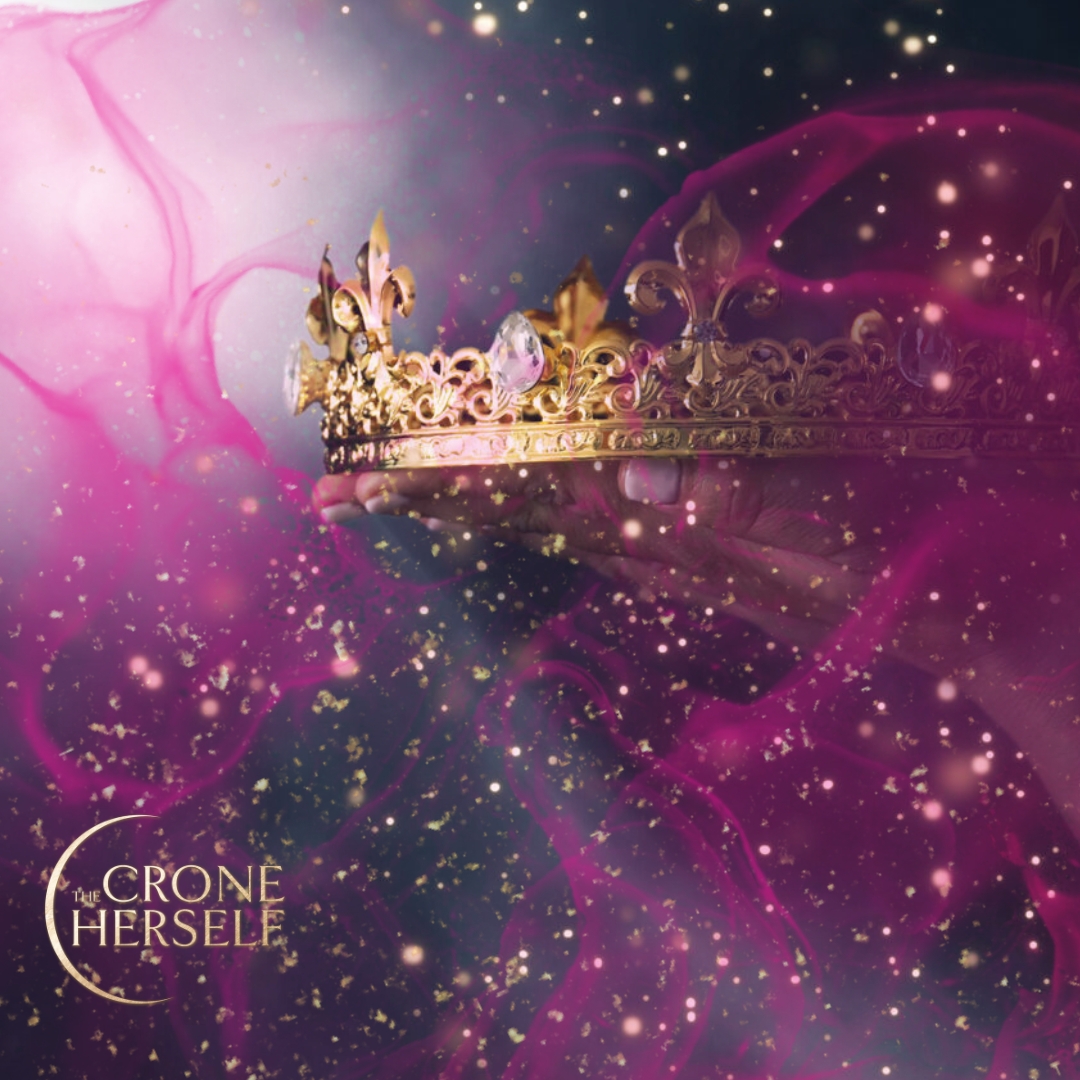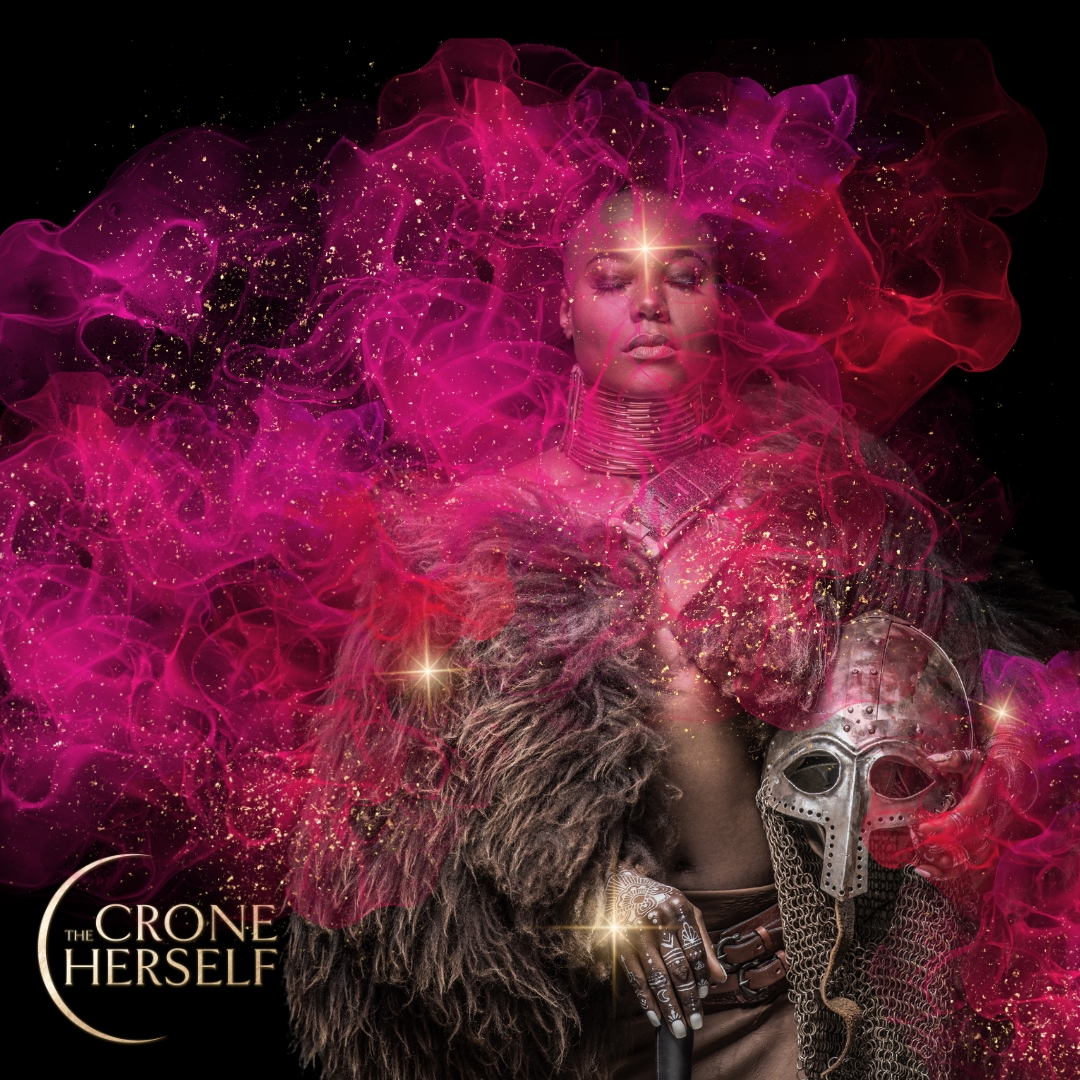 Power Shared is Power Gained
integrate
To INTEGRATE is to embody power gained; to decompartmentalize; to stand fully in your Mastery; to unify your varied stories into your Whole Story. To INTEGRATE is to be In Integrity. INTEGRATE with other Initiated Crones for ongoing support in your Big Crone Energy.
Dancing the Betwixt and Between

Mitigating Tears and Fears

Benevolent & Generous. Boundaried & Protected

Lasting Alliances in the Game of Crones

The Provocation of Crones Supports You!